Chicago, IL – Electronic Road Signs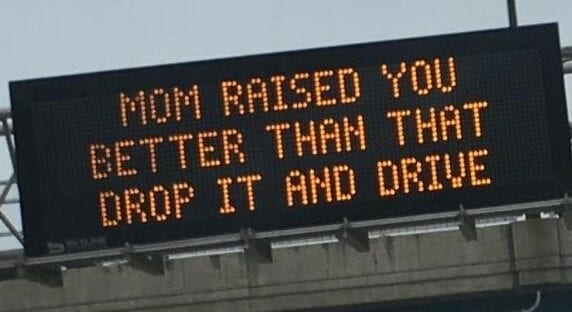 Electronic road signs are key safety tools on the roads and highways throughout Chicagoland. They are some of the most effective signage at alerting drivers to things that they should know about. Electronic road signs are also very useful because you can change the message on them whenever you need to.  This negates the need to buy a whole new sign. Clearly, electronic road signs have a lot going for them. But how and when should one use an electronic road sign in Chicago?
Electronic road signs
These signs are the ones that you see near roads while driving. They most commonly have a rectangular face and the text is lit up on the panel. Typically, the text is an orange light on a black background, but other colored lighting can also be used. They can be static in the message that they display, or they can be dynamic and cycle through two or more messages based on a programmed schedule.
How to use electronic road signs
Electronic road signs are most commonly seen in two places: at the side of the road/highway or on an overpass attached to a bridge. When positioned at the side of the road, electronic road signs need a stand. These stands are often affixed to a two-wheel trailer hitch that can be attached to a vehicle for easy transportation. Sometimes these trailer hitches or other platforms used to hold the electronic road sign are weighted down by sandbags.
When to use electronic road signs
Electronic road signs are frequently used to inform motorists of an unusual or temporary driving hazard. Some examples of messages often conveyed on electronic road signs include:
Lane closures
Road closures
Icy conditions
Construction
Fog, rain, or other visibility issues
Adverse weather conditions
Exit closures
And more
But electronic road signs aren't only to inform drivers about unexpected inconveniences. These signs can convey a whole host of information. Remind drivers of the speed limit and urge them to slow down. Caution drivers against driving while under the influence of drugs or alcohol. Provide estimates on commute times based on current traffic conditions. All of these options can be done alternately because many electronic road signs are dynamic, so they can switch the message they display on a schedule.
They could also be used for advertising and promotion. For example, a local Chicago business or organization can sponsor a "Don't Drink and Drive Message". So, whether you want to alert drivers about a lane closure on the Dan Ryan Expressway, or would simply like to offer a sponsored message reminding Chicagoans to drive safely and responsibly, you can say it with an electronic road sign.
SIGNificant Graphics Inc.
If you would like to learn more about how electronic road signs are used and what they can say in Chicagoland, or to place an order for an electronic road sign for yourself, please contact SIGNificant Graphics at our website or call us at 312-467-7377.
Back